Introduction
You are almost there. Let's connect your application with adbrix to actually start the investigation. It won't take long. To easily add a new application to the adbrix dashboard, follow below steps.
Step by Step
Follow the directions for each step to add new application on your account. You can refer to the dashboard images provided for the steps. This usually takes less than 5 minutes.
If this is your first time adding a new app, click on 'Add New App' and jump right into 'Step c', and if this is not your first time, start from 'Step a'.
1. Click on Settings & SDK menu at the left, and then click on 'Application' menu.
2. Click on Adding App at the top right corner.

3. Fill in the blanks for the initial settings. The settings can be changed later on.
App Name : Tell us the name of the application you want to analyze.
Platform : Check on the platform of the app.
Time Zone : Set the base time zone for the analysis. You can always change the time zone settings.
App Icon : Upload the icon image of the app.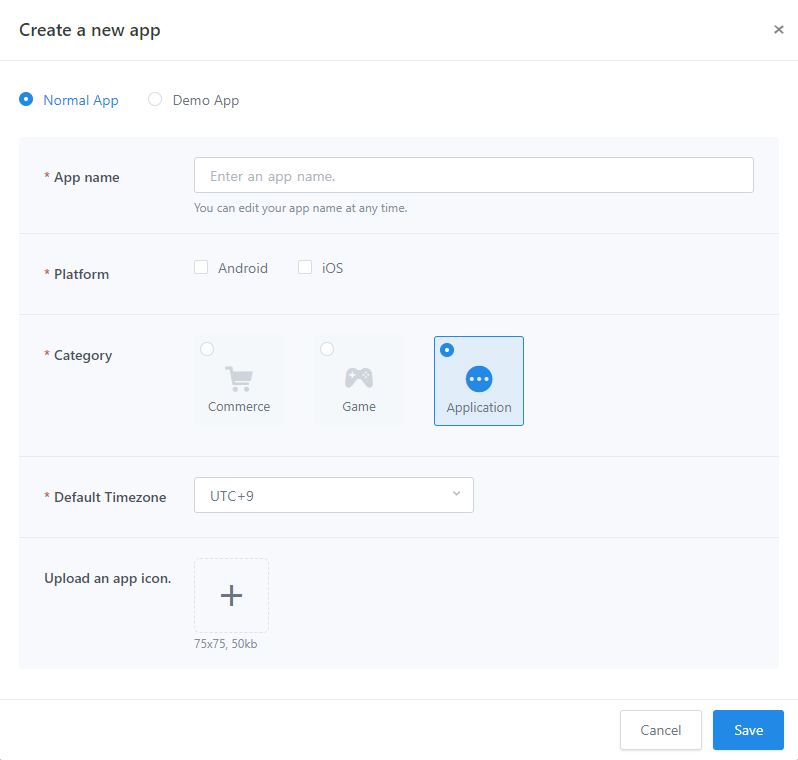 4. Click on Save to finish the setting.
5. Check your app's Application Key and Secret Key, and deliver them to development team with adbrix integration guide.
Once the SDK integration process is completed, you can check the event status and data of your application.
If you are having trouble adding your app or integrating SDK, please contact adbrix customer support team for further assistance.
e-mail address : se.team@igaworks.com