Creating and Settings for In-App Message
Follow
Introduction
The in-App message is one of the functions in Growth Action to communicate with your user.
Create personalized in-app messages optimized for individual users, targeted at specific audiences or the entire real-time user base, to communicate important updates, events, promotions, and other relevant information. Reach users with notifications at the right moment to improve engagement and attract potential customers.

[Growth Action Integration Guide]
Creating Audience
All the Growth Action including Push Message requires Audience. To start you need to create an audience first.
_ Understanding Audience Studio
_ Example of creating an Audience
Starting In-App Message
a.To start the In-App message go to Growth Action > In-App Message menu.
b. Click the '+Create In-app message' button in the upper-right corner. In-App messages have 5steps to create.
1) What : Define the purpose of the In-App Message campaign. Set a Campaign name and platform.
2) Who : Set an audience
* Audience: Choose a real-time audience or a pre-defined audience that you already created.
3) Layout : Select Layout
* Device Screen Type : Choose Portrait or Landscape (If your app support both select both.)
* Layout : Select In-app message layout, Full Screen, Modal and Sticky Banner.
4) Message : Write a message based on the layout
* Each layout has a different view of the creating message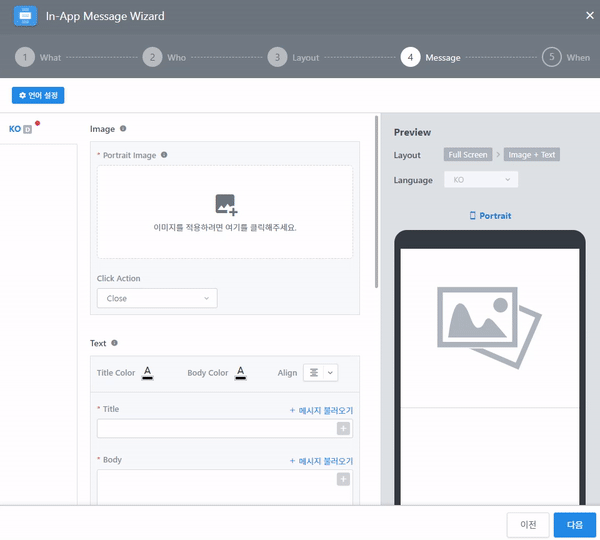 * Upload an image and add text
* You can choose the Click Action option for each image or text

None

Don't use Click Action

Close

In-App Message is closed when it clicked

Web Link

Go to the Web link when the In-App message is clicked.

Web Link(Close)

Go to the Web link when the In-App message is clicked.




(In-App message will close)

Deeplink(Close)

Go to the Deeplink when the In-App message is clicked.
* Button can create maximum 2 buttons.
5) When : Select when this In-app message will start showing.
* Campaign Date : Schedule when to start/end the In-App message campaign.
* Triggered event : Select the event that this In-App Message is going to show. A maximum of 10 Triggered events can select.
* Time Setting : Set a which time this In-App Message is going to show during the campaign date.
* Expose Setting : Set a timer for this In-App Message (each session, by user, daily / timer)
* Test Device : If your device is registered as Test Device you can see this In-App message all the time.
[[인용:경고:보통]]Warning
_In-App Message schedule can be set 1 hour after from current time.
Status
There are 6 status for In-App Message.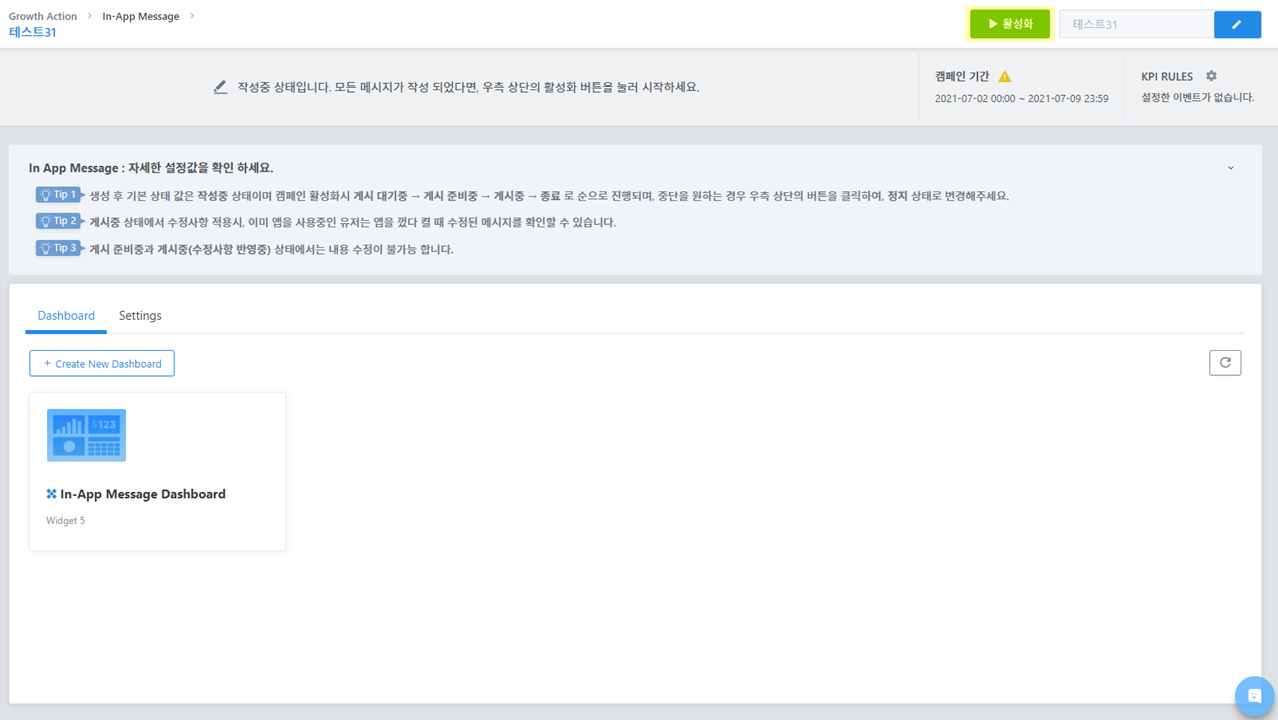 Waiting : Basic status of In-App Message. (Before the Live)

Ready : In-App Message is Ready

Preparing : Prepare an In-App message to show. In this step, the audience will calculate before the Live.


Live : In-App Message is currently running.

Stop : Stop showing In-App Message. It can go to Live again.

Finish : In-App Message Campaign is finished.
[[인용:경고:보통]]Warning
_Audience cannot change during the Ready and Preparing
_When you change In-App Message during Live, User can see the changed view when the user restart app.
_In-App Message can Live a maximum of 30 In-App Messages.
(If you want more please contact dfn@igaworks.com)
In-App Message Report
You can find Dashboard for each In-App Message to see the report
| | |
| --- | --- |
| Sending Report | KPI Report |
| Total Impression : Number of Impressions | - |
| Unique Impression : Number of Unique Impressions | - |
| Total Click : Number of Total Click | KPI will show based on Total Click |
| Unique Click : Number of Unique Click | KPI will show based on Unique Click |
| Total CTR : CTR of In-app message | - |
| Unique CTR : CTR for based on Unique Impression | - |