Push Message Quick Guide
Follow
Introduction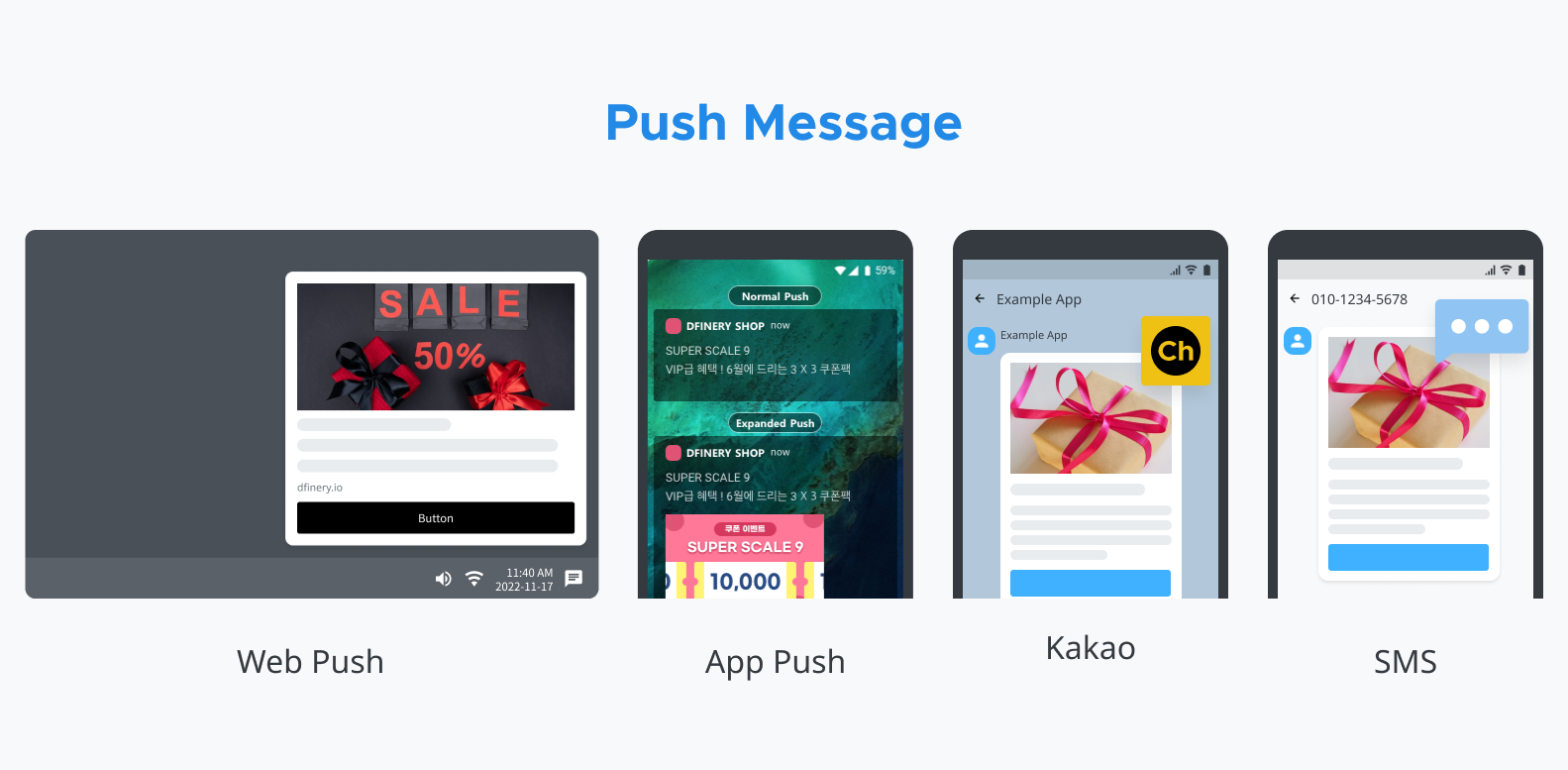 The push message from Growth Action is to send a push message to a targeted audience.
If you send push messages at the right time, you can guide users' behaviour, and level up your brand image.
Basic Requirements for Push message
DFINERY support 4 different types of push messages. Web, App, Kakao, SMS
All the push message requires the integration of the Growth Action function in our SDK.
Web push requires adding Web Analytics.
[[인용:안내:보통]] To use Growth Action, it requires adding a Subscription plan. [Ask Subscription Plan]
[[인용:안내:보통]] To use Web push message you need to add a Web Analytics subscription plan. [How to use Web Analytics]
Creating Audience
DFINERY push message can send to users who do not have access to your app or web.
So it is crucial that send the right push message to the right user audience.
To send push messages to the right user, create an audience on the audience studio.
Creating push message
🚩 Follow these steps for creating a push message.
1. Go to Growth Action > Push Message menu.
2. Click the '+Create push message' button.
3. Enter the push message wizard and set a puss message.
a. Target and Channel : Select the target audience for the push message and push channel.
b. Message Setting : Create a push message.
- Total Setting : Common push message for all the push channels.
- Language Setting : Select and set a push message language
- Additional Setting : If you want to set a different message for each channel you can set an additional setting.
c. Action Setting : Set an action for when the user clicks the push message.
d. Schedule and Test : Set a schedule for sending push messages and send a test push message to your test device.
4. After push message creation is complete you can find a list in Growth Action > Push Message.
Message statues
Push messages have 6 status values.
- Holding : Push message creation is not complete.
- Ready : Push message is ready to send.
- Sending : Push message is currently sending on the right schedule.
- Complete : Sending push message is complete.
- Cancel : Cancel the push message to send.
- Fail : Fail to send push message.

Push Message Report
You can analyze your push message on the Dashboard tab.
You can analyze the following data for push messages
| | |
| --- | --- |
| Push Report | KPI Event Repot |
| Audience : Number of Audience targeted for push message | |
| Send : Number of sending push message | KPI event will analyze based on Send |
| Open : Number of push message open | |